How can I access support through my profile?
Access a wealth of knowledge through the Help Center by clicking "Help and Support" in your profile. Get your questions answered, empowering you to navigate and utilize the platform effortlessly.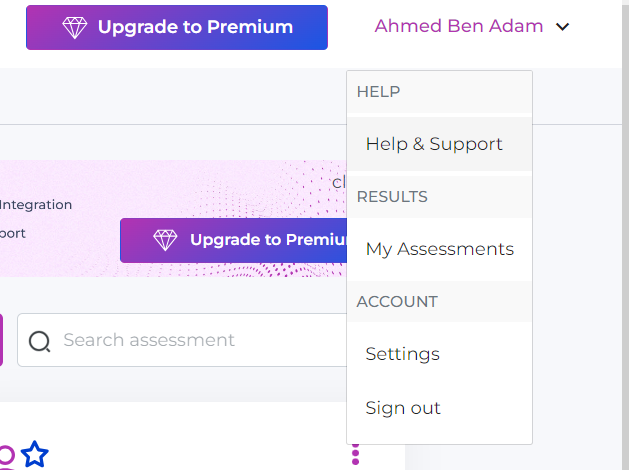 ​
Related Articles

How can I access my profile and insights?

Your profile at the top-right corner opens doors to personalized resources. Access the Help Center for knowledge, dive into individual assessment reports, and customize your experience in the "Account" settings.

What happens after I complete the registration for a team account?

Once you've registered, you'll gain access to your team account's features and benefits. This includes enhanced insights, collaboration opportunities, and more, as described in upcoming sections.

What if I encounter any issues while updating my profile?

If you have any issues or questions while updating your profile settings, don't hesitate to contact our support team for prompt assistance.

How can I update my organization's profile information?

Access "Settings" from your profile icon on the top right of the dashboard. Here, you can manage details like company information, web URLs, custom email templates, your profile, and password.

How can I update my profile information on Upskillable?

Access the "Edit Profile Settings" page by clicking on your profile name at the top right of the dashboard and selecting "My Profile" from the drop-down menu.